---
Acoustic Foam & Sound Insulation Products

Acoustic Foam and Style Unite! Sound Insulation with our Sonitec™ and Sonitec™Plus lines of acoustic foam offer the perfect blend of technical specifications and eye-pleasing aesthetics. We offer three different piece sizes and four color options in order to meet your acoustic needs. Order by the pack and/or larger sizes for volume discounts.

Acoustic Foam is used extensively for superior sound absorption and insulation, check out our Sonitec™Plus line of acoustic foam. The increased NRC ratings across the board will meet even the strictest audiophile's needs. Whether you're a professional musician creating a sound studio, or simply trying to help control some sonic anomalies in your hall, gym or church, Sonitec™Plus will be "music to your ears."

We offer 4 colors of acoustic foam: white, gray, dark gray, and blue, depending on the type of foam selected. Some colors may fade over time and become brownish. This is not something we warranty. Only the gray and dark gray (Sonitec™) colors are warranted not to fade.

(CUSTOM CUT sheets of Acoustic Foam Insulation are available below...)

Sonitec™
1 piece
12" x 12"
24-pc pack
12" x 12"
12-pc pack
18" x 18"
6-pc set
24" x 24"
1 sheet
54" x 76"
(blue, white)
1 sheet
77" x 77"
(dark gray)
2"

wedge

$3.90 (dark
gray only)
$73.31
$73.31
$73.31
$73.31
$101.57
2"

pyramid

$92.95
$98.35
$80.75
$88.03
$123.24
3"

wedge

$92.55
$98.35
$77.75
$86.35
$120.89
3"

pyramid

$125.55
$129.35
$109.75
$117.38
$164.33
4"

wedge

$112.55
$118.35
$97.75
$106.35
$148.89
4"

pyramid

$152.55
$158.35
$135.75
$146.70
$205.38

Sonitec™


Plus

1 piece
12" x 12"
24-pc pack
12" x 12"
12-pc pack
18" x 18"
6-pc set
24" x 24"
1 sheet
54" x 72"
2"

wedge

$7.05
(gray only)
$149.55
$145.65
$127.75
$133.65
2"

pyramid

$215.55
$209.65
$190.75
$197.08
3"

wedge

$189.55
$190.20
$172.75
$178.20
3"

pyramid

$278.55
$274.20
$256.75
$262.76
4"

wedge

$229.55
$234.75
$217.75
$222.75
4"

pyramid

$336.75
$341.75
$323.75
$328.46

Sonitec™ acoustic foam:

The WHITE and BLUE Sonitec™ acoustic foam colors are a special order.
To order these colors, please call us...

Acoustic Foam does not meet fire standards for public areas such as nightclubs. I agree that this foam is not being used in a public area, nor am I reselling it to someone who is using it in a public area. When foam burns it can cause serious bodily injury and/or death. Do not burn objects like candles or flames near foam. Consult your local fire marshal before applying these foams to see if they are acceptable for your application.

Sonitec™

Plus

acoustic foam:




Sonitec™ acoustic foam
wedges, in dark gray
White Sonitec™ pyramids
This material will turn
brown over time
Sonitec™

Plus

sound insulation
pyramid sheets, in blue
12" Sonitec™

Plus

wedge
pieces, in gray
Sound insulation foam descriptions:
Sonitec™ Wedges:
Acoustic absorption is the key to this line! Go with our 2" Sonitec™ Wedges when you're trying to tame frequencies in smaller areas. These are our most popular seller and work great with most acoustical needs. Our 3" Sonitec™ Wedges are better at absorbing low-end frequencies than the 2" version. Medium sized areas will appreciate the acoustic accuracy of the 3" wedges. 4" Sonitec™ Wedges are best for larger sized areas with bass control issues. If you need maximum acoustic control and sound accuracy, 4" is the size for you.

Sonitec™ Pyramids:
In general, the pyramids are better at diffusing sonic anomalies than their wedge counterparts. By having 4 sides exposed, as opposed to 2, sound absorption is reduced while sonic accuracy is heightened. Pyramids will produce a much richer, more complete sound than wedges. Go with the larger sizes when battling against the undesirable sonic effects that bigger rooms pose.

The Noise Reduction Coefficient (commonly abbreviated NRC) is a scalar representation of the amount of sound energy absorbed upon striking a particular surface*. An NRC of 0 indicates perfect reflection; an NRC of 1 indicates perfect absorption. Please contact us for the NRC ratings of our Sonitec™ and Sonitec™Plus lines of acoustic foam.

*
In particular,

NRC is the average of six sound absorption coefficients of the particular surface at frequencies 125 Hz, 250 Hz, 500 Hz, 1000 Hz, 2000 Hz and 4000 Hz. These frequencies encompass the fundamental frequencies and first few overtones of typical human speech. Therefore, the NRC provides a decent and simple quantification of how well the particular surface will absorb the human voice.

Optimal arrangement of
sound-proofing wedges
The four sides of pyramid
sound insulation foam make
for better acoustic control

---
Pro-Tack Foam Adhesive
Our spray glue will FAST bond to paper, metal, wood, fabric, and more. It dries in seconds to create a permanent bond. This spray glue is also ideal for repairing rips in foam. (Note: Pro-Tack should not be used on polystyrene.)

PRO-TACK wide web spray adhesive is one of the highest performance aerosol adhesives available. For both temporary and permanent bonding, this high solids product is ideal for uneven or porous surfaces and weight materials. Waterproof, flexible, transparent and non-staining, use PRO-TACK for your toughest adhesive applications with materials such as leather, cardboard, most plastics, and cloth. Formulated with the environment in mind, PRO-TACK contains no chlorinated solvents or ozone depleters. Cleans easily with Mineral Spirits. Not intended for use on vinyl.

Spray foam glue
---
Acoustic Foam
We cut convoluted sheets (egg-crate pattern) to your custom dimensions. If you want solid pieces without the egg-crate pattern, visit our packing foam section. Also note that our acoustic foams can easily be cut with any serrated knife (such as a turkey carving knife, or simply a knife with "teeth") or a good pair of industrial scissors.

Note regarding custom cut pieces: We try to provide one seamless piece for your order. However, since this foam is manufactured in pairs, we will sometimes send two pieces of half the size you've ordered. For example, if you were to order only one 48" x 96" piece, we'd most likely send you two pieces at 48" x 48", unless there were other customer orders with similar dimensions. Therefore, it is recommended that you order sheets of acoustic foam in pairs. If you are ordering many different size pieces then most of the time we'll send you the exact dimensions you've ordered. In addition, for pieces larger than 82" x 96" (208 x 244 cm), we'll send smaller pieces that will add up to your large piece. Finally, it is also important to note that the foam (except the "ester" foams) can lose some size from compression during shipping. Therefore, we also recommend that you order each piece 2" to 3" larger (5 to 8 cm) in the event that the full size is important.

Acoustic foam is not fire retardant. Use at your own risk.

We offer six colors of acoustic foam: white, charcoal, gray, pink, blue, and dark gray, depending on the type of foam selected. Some colors may fade over time and become brownish. This is not something we warranty. Only the charcoal (3002ch foam) and dark gray (Sonitec™) colors are warranted not to fade.

For total sound blocking it is necessary to control the flow of air into and out of a room. Sheet rock walls, ceilings, and floors should be further insulated with 6mm neoprene (Grade #1). The density of the neoprene, when installed correctly, will effectively block sound waves.

Acoustic foam is best applied to your walls and surfaces with a heavy staple gun or our adhesive spray. Remember, most acoustic sheets larger than 82" x 96" will have seams. During the vacuum packing process (for shipping) these seams can open. It is recommended that you purchase a can of foam glue to mend any seams that may have ripped during shipping.

---
Noise Reduction

Acoustic Foam Sheets, Custom Cut
We sell convoluted sheets of 3002 (Ester), Y37ch (discount), CD30, and Y33 acoustic foams. Full descriptions of each type of acoustic foam will be provided on the price quote page. Thicknesses of 2" and 3" (5 and 7.5 cm) are available. We cut convoluted sheets into rectangle, circle, and right-triangle shapes. It is important to note that the foam (except the "ester" foams) can lose some size from compression during shipping. Therefore, we recommend that you order each piece 2" to 3" larger (5 to 8 cm) in the event that the full size is important.

Convoluted sheet of 3002ch
(Charcoal) Acoustic Foam
We cut the following shapes...
Please click on the shape below that closest resembles what you would like to order. Next you will be asked to enter in the dimensions, and after that you will be given a price quote on a range of qualities.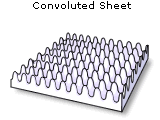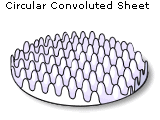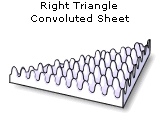 ---
Acoustic Foam Sample
We will ship a FREE sample piece of acoustic foam to you. See for yourself how this sound insulating foam works. Free samples are currently only offered within the 50 United States. International requests must be ordered through the Custom Cut section, above.
---
Browse Related Products:
---
Acoustic Foam . Wholesale Foam . Closed Cell Foam . Conventional Foam . Fire Retardant Foam . Memory Foam . Outdoor Foam . Memory Foam Mattress
---