You sure can! At FoamOrder, we've been helping boat owners create and replace custom cushions for over 20 years. Just let us know how you'd like your hinge and we'll make sure we get it right. Boat cushions with a hinge make it easy to access storage under v berths. Contact our customer service team with help if needed.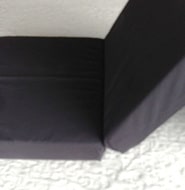 Simple Fabric Hinge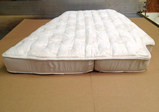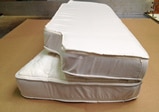 Quilted Top Hinge
Most boat cushions will match one of the shapes above and will not require a pattern. However, if your boat requires cushions in a non-standard shape, here are the steps to creating a pattern:
To begin, take a minute and review how your existing boat cushions look. This is your chance to correct any gaps and make improvements. Next, using paper, plastic, or fabric to make the pattern, simply cut your pattern to the exact sized desired. The more precise the pattern you provide will result in a more exact fitting boat cushion. Please mark on your pattern "This side up" and which side(s) should be used for zipper placement and stripe direction. Keep in mind that most large v-berths work best with a zipper wrapping around three sides. Always mark the pattern for zipper placement on the hull side. Finally, if your boat cushions require a bevel, it works best if you provide a pattern for both the top and the bottom of the cushion. Or, you can write on the pattern the different size of the bevel in each area.
For a price quote, use the pattern shape and enter in the largest dimensions (thickness, length, and width) from your old boat cushions. As always, our experts in customer service are standing by to answer any questions or help you through the ordering process.

Boat interiors are frequently moist. This moisture gets trapped between your cushions or mattress and the boards below. To help avoid problems with mold or mildew, air your mattresses or cushions outside in the sun every couple of days but don't remove the covers. When you are not using your boat, store your mattresses or cushions vertically in the aisle. For added protection, you can sprinkle anti-fungal powder (found in most drug stores) on the platforms below your mattress or cushions, as well as on the bottom side of the cushions.