Since 1999 foamorder.com has been providing comfort in the form of mattresses, cushions, mattress toppers, and custom cut foam. My family background is the upholstery supply industry. Our family business is David Rostov Upholstery Supplies, Inc., and has been in business since 1950.

How we got started... It all started on a vacation in Los Angeles in early 1999. I was talking to my future brother-in-law on a road trip on the 405 freeway. I was describing my business plan to him, and he thought it was a great idea. From that moment it was born.

In March of 1999 I installed a business phone line into my apartment and placed an ad in the yellow pages in San Francisco. The ad started running in June. The very first day the ad came out four people called. I was writing orders from my bedroom and customers were picking up out of my garage. We finally found a retail location in October of 1999 and opened on October 15th. My girlfriend (who is now my wife) was graduating college in 1999 and ran the store four days a week; we were closed the other days while she was at school. I was managing the family business full time and supporting us. For the first ten months, her salary was $3 per hour. I put every penny we had into the company. Our first several months were very lean. By February 1st of 2000 we were nearly broke. But with the rent paid for the month, and a month of sales ahead, we pressed on. Today, 18 years later, business is booming.
Foamorder is a place to bring your questions about foam. Our friendly, knowledgeable staff will guide you to the products you need. Our goal is to be a one-stop shop for your foam needs, to carry a large variety of foams for every sector.
We have the friendliest foam web site on the Internet. We invented the on-line custom quote feature based on dimensions, and, regrettably, we didn't try to patent it. (Per our patent attorney, it was possibly a costly mistake.) Here, you can obtain LIVE price quotes for stocked and custom cut foams. Our secure web servers will process your order. Within minutes you will be on your way to receiving foam products without ever leaving your home.
Our foam has been used for a variety of projects, from custom-built sofas to costumes. Most people don't realize how much foam is a part of their everyday lives. You'll find foam in window seats, couches, athletic shoes, gyms, life preservers, and mattresses.
We don't stop with foam—we supply all related items and accessories. Many customers shopping for mattresses asked us for bed frames. Also from constant inquiries we felt the need to offer a line of bedroom furniture. San Francisco is a hub of international furniture design and we have acquired many unique and exclusive lines.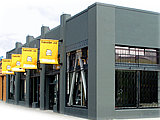 Visit our San Rafael retail store at 813 A Street. Come in and try all the foam we have to offer. If we don't have the foam in stock it is usually just a week away. (Click on the image of our storefront for specific directions.)
Honesty is our policy. We, like you, are consumers. We want your foam shopping experience to be easy and not confusing. We will share with you all the information we have on a product and we will also let you know of any problems we may have had with a particular foam.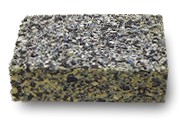 We are concerned with the health of our environment. Our foam is 100% recyclable—we send off our scraps to be made into carpet pads. We also have a line of natural latex foam. Although we receive many requests for beanbags with Styrofoam filling, we refuse on principle to sell them. We try to avoid using materials that will fill up our landfills.
The Foamorder.com mission statement:
Making our customer's lives more comfortable and stylish by viably conducting business with integrity, quality, and competitive value.
We hope you enjoy browsing through our site,
and we look forward to doing business with you.
Sincerely,
—The Foam Order.com Staff