How to Prepare a V-Berth Boat Mattress Pattern
Many boat cushions do not require a pattern if they match one of the shapes above. However, if you want us to design a v-berth mattress to fit your boat, you will need to prepare a pattern for us to work from. Take a minute and review how your existing cushions look. This is your chance to correct any gaps and make improvements. Using pattern paper or fabric, simply cut the pattern to the exact size desired. A pattern drawn with precision will result in a more exact fitting cushion. Please indicate the top of the pattern by writing "This side up." Indicate which side(s) should be used for zipper placement and stripe direction. Large v berths and cushions should have a zipper on three sides to make it easier to insert the foam cushion. We recommend placing the zipper on the side facing the boat hull, not under the cushion. This placement hides the zipper from view and prevents it from buckling.
To place an order, all you need are the largest dimensions (thickness, length, and width) from your old boat mattress or custom shape. Enter the dimensions into our "Pattern Shape."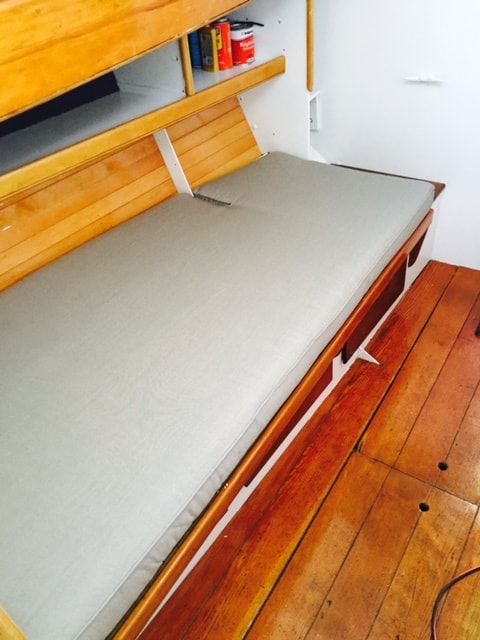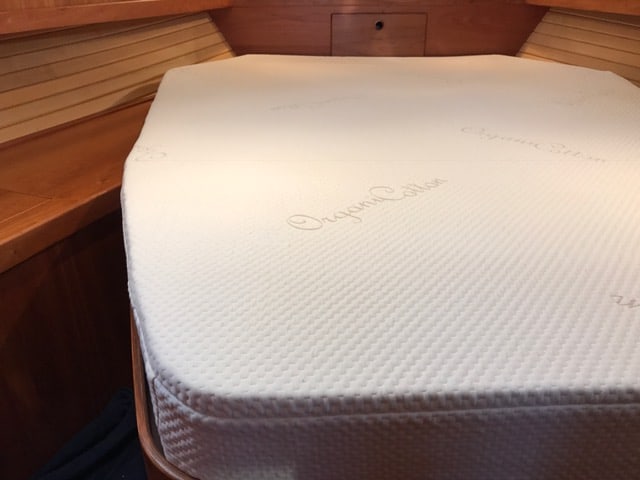 What Kind of Material is Best for a V-berth or Boat Mattress?
You can select from genuine PostureSense memory foam, Natural Latex, an all natural foam used in our organic mattresses, or our traditional sailboat mattress foam. For a simple traditional foam boat mattress, we recommend our high resiliency (HR) Everflex foam if you're going to spend more than 2–3 nights at a time on this boat mattress. If not, you can get away with our less-expensive (and less dense) Econoflex foam. We offer 3 firmness options for each of these, and generally recommend medium V44 as long as your boat mattress is between 2–5 inches thick. If it's thicker you should consider our less firm V34, and if it's less than 3 inches you'll probably want our firmer V54 foam. Your second boat mattress foam option is our dreamy premium, and organic, latex foam. We offer six firmness options to match your personal sleeping preference from soft to firm. Finally, we offer memory foam boat mattress options as well, but always recommend that you put a base layer of polyurethane foam below 1–2 inches of memory foam. If you have any questions about how to construct the optimal boat mattress for your vessel, don't hesitate to contact our Customer Service team!
Do you Make V-Berth Boat Mattress Toppers?
If your v-berth boat mattress is too hard or just old and in need of some upgrading, try one of our high quality, comfortable foam toppers. We can customize any standard sized mattress topper for an extra $10–$25 labor (simply make this request by using the "Add comments" link found in the shopping cart). This cut-to-size option is important since it is often less expensive to order a standard sized foam cut down to size. This particularly applies to our natural latex foam and memory foam toppers. If you are unsure of the best option, please contact us. We are happy to help you create the most economical boat mattress solution.
Can You Make a Hinged V-berth Boat Mattress?
Boat mattress V berths often need a hinge to allow easy access to the storage below. Our bi-fold hinge mattress provides a simple solution. Our more luxurious hinge option is a quilted top that covers the split in the foam beneath. Our customer service team can help you figure out any issues about creating a custom pattern (including with a bevel cut), how to measure, or where to put the hinge.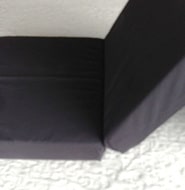 Simple Fabric Hinge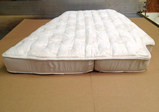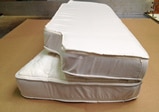 Quilted Top Hinge
How Do I Create a Beveled V-berth Boat Mattress Pattern?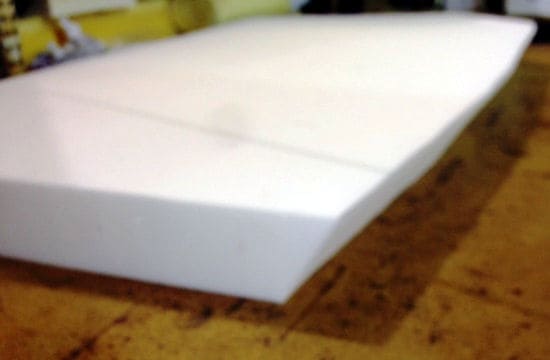 We have the ability to bevel the edge of your v-berth boat mattress to match the contour of your boat.
It's best to send us a pattern of the top and bottom template. This can be done on the same single pattern. Cut the pattern to the top curve and just mark the bottom curve.
...or...
You can send us just the bottom pattern with simple instructions for the top. For example, "add three inches to the beveled side for the top pattern."
If we're making new covers for your beveled v-berth boat mattress we know what to do to make the finished product right. If you're not in need of a new cover there are a few tricks to replacing the foam properly.
Add comments to your order to "add one inch to the foam bevel edge." This will help stretch the fabric tight. This is only added to the top of the beveled edge. (This is not needed if you have Dacron on the top.)
...or...
Add 1" to your actual pattern as we'll cut it to the pattern exactly.
Failure to do either one of these leaves unwanted wrinkles in a fabric such as Sunbrella®.
Boat Mattress Maintenance
Boat interiors are frequently moist. This moisture gets trapped between your mattress and the platform below. To help avoid problems with mold or mildew, air your mattresses or cushions outside in the sun every couple of days, but don't remove the covers.
When you are not using your boat, store your mattresses vertically in the aisle. For added protection, you can sprinkle anti-fungal powder (found at most drug stores to treat conditions like athletes foot) on the platforms below your boat mattress, as well as on the bottom side of your marine mattress.
Other Notes about Boat Mattresses
Marine mattress material should be of high quality to ensure a restful night's sleep after a long day on the water and to maximize the enjoyment of your boat!
A V-berth mattress has the shape of a "V" and is used as a boat mattress to take advantage of often limited sleeping space. V-birth mattresses also often double as rest or sitting areas when not used for sleeping.
Ventilate your marine mattress regularly to prevent mold. We recommend adding boat mattress polyester batting to the bottom side of the marine mattress to allow for maximum breathability.
Cover the V berth mattress foam in your marine mattress to protect it. We recommend Sunbrella® fabrics for their great combination of durability, effectiveness, and comfort for outdoor or marine applications.
Using a high-quality polyurethane, memory foam, or latex foam in your marine mattress will prevent it from softening over time. All of our sailboat mattress options are free of harmful flame retardants and other chemicals. We also custom sew mattress covers and mattress protectors for any shape sail boat mattress. We warrant our marine mattress according to the quality of foam used and the fabric chosen.