---
Our professional seamstresses can handle any custom sewing job.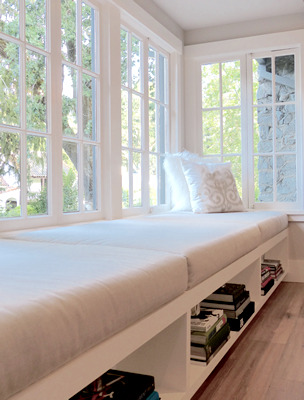 We sew fabric and vinyl covers to meet all of your needs. Here, in our sewing section, you can order specialty fabric covers for foamorder.com® items, or you may order just the fabric cover alone. We sew a zipper into each of the patterns for easy cover removal. If you don't have a standard shape, select "Odd and Pattern Shapes" from the shapes below and follow instructions for creating and mailing us your own custom shape pattern. We sew our custom covers both inside and out. This prevents the fabric from unraveling on the inside when cleaned. All of our covers should be dry-cleaned only. There are no returns or cancellations on any custom sewn products.
Custom Drapes and Duvet Covers
Cushion covers and pillow cases aren't all we do — we also sew duvet covers and custom drapes. We offer three popular styles of drapes, and four different drapery linings. Choose one of our fabrics or send us your own.
We carry three lines of fabric: Sunbrella brand, our own discount fabric, and the Robert Allen Fabric line. In addition we carry two lines of marine vinyl: Nautilus Grade A and Nautilus Grade B. You can also send us your own fabric. We will give you instructions at the conclusion of your order on how to mail your fabric to us.
Sunbrella Fabric
Our most complete line is by Sunbrella. Sunbrella is the leading brand in exterior/interior fabrics. Sunbrella fabric is UV treated not to fade for 3 years. You may choose from a variety of colors and prints. If you select a striped Sunbrella fabric, we recommend that the cording be a solid color that will match one of the stripe colors.
Discount Fabrics
Our discount fabrics come in six colors (see color chart, below). The white colored fabric is made of a soft satin fabric. The colored fabrics are typically an 8 oz. durable fabric, usually a poly-cotton twill.
Certified Organic Cotton Muslin
Muslin is a looser weave fabric used primarily as an inner lining fabric with an exterior finished fabric used on top of it. Muslin may be used as an exterior fabric for some applications, such as a case for a mattress pad or a foam block. It is not heavy enough to be the only fabric for natural latex — it will allow too much airflow and subsequent crystallization of the natural rubber as the latex dries out. For covering latex we suggest this fabric in combination with our organic cotton mattress ticking.
Robert Allen Fabrics
We also carry the Robert Allen Fabrics line. You can usually find these at your local upholsterer. You can browse through this line, order the fabric directly from us and save money on your sewing fees.
Nautilus Marine Vinyl
Our marine vinyl is known for its outstanding resistance to stain, mildew, abrasion, bacteria, common scuffing, fading, and burnishing. Both our Interior (Grades A & B) and Exterior expanded vinyls are excellent choices for marine upholstery, as well as for projects within the kitchen, bath, and home. The sturdy, expanded construction utilizes a heavy-duty, 100% polyester filament backing that has superior strength and great stretch and set qualities. They are all available in 54-inch widths. Day-to-day clean-up is simple with a solution of mild soap and warm water. Non-abrasive household cleaners may be needed for more difficult stains, and used according to manufacturers' instructions.
Although all grades (for both Interior and Exterior) provide excellent protection and quality as described above, Nautilus Grades A & B — Interior go a step further with additional flexibility and comfort while providing better resistance to UV fading and water damage. They are also coated with PreFixx® protective finish, which provides stronger resistance against staining and allows exceptional ease of cleaning. We recommend choosing Nautilus Grades A & B — Interior on softer foam cushions, down cushions, or for better protection against sunlight, long term water exposure, and general wear. All three types have a five-year manufacturer's warranty, and meet California Flame Retardant rating (#117, Section E). Color availabilities vary for both Interior and Exterior choices. (See color charts: Grade A - Interior, Grade B - Interior, Grade A - Exterior.)
---
Step 1: Choose a fabric option
---