Use the following table to help you select the proper mattress thickness for your body. The proper thickness will prevent the mattress from bottoming out. The table refers to the inner latex core of the mattress, and not the total thickness of the mattress. The outer case can add approximately 1" or 2" to the total thickness.
| | | | |
| --- | --- | --- | --- |
| Weight | Soft | Medium | Med-Firm to Hard |
| Under 210 lbs | 9" | 9" | 6-9" |
| Over 210 lbs | 12" | 12" | 6-9" |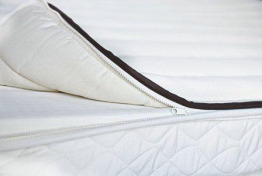 For all 12" thick Layered Organic Latex Mattresses
We recommend that you call us to help place the order to build your mattresses. Inner latex layers should be covered with two separate cases. For example: if you want a split firmness each half should be separately encased in its own inner case to hold the layers together. Don't worry, you won't notice or feel anything because of the thickness of the overall outer case. If you don't want a split firmness, we recommend putting a separate case around every 6" of latex inside. This way it's easy to take apart the mattress and move 6" at a time without damaging the latex. Latex is too heavy to move the 12" mattress; it needs to be disassembled.
Please contact us if you need more help in selecting the proper firmness.