Folding Beds
Tri Fold Folding Futon Bed
---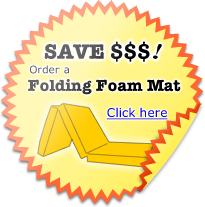 ---
Folding Bed
Flip 'em, fold 'em, and store 'em bed. Our tri-fold folding futon beds are great folding beds for guests. They also make cute folding bedroom furniture for children. They are easy to store under a bed or folding in a closet. The tri fold futon is 3.5" thick and is covered with poly/cotton fabric. Click a size to see available colors. (The navy denim folding beds cost $15 extra.) The foam in this tri fold futon is a guest bed grade with a pretty-firm feel. They contain our C33 folding foam grade, which is expected to last 5 years under intermittent use. This foam won't last as long as our other folding grades so you may want to upgrade the folding foam now or in the future. To upgrade now, choose a customized folding option in the sections following this one, in which you can choose the folding foam bed quality and firmness for your folding bed. Either way, don't throw out the bed covers.

Our standard folding tri-fold beds come in these sizes:

Portable Folding Tri-Fold Futon Bed
---
Upgrade and customize beds...
Folding Beds
Bi-Fold Futon Beds. We now offer the comfort and convenience of our tri-fold folding futons in a spacious, Queen size bi-fold folding futon bed. This great guest folding beds mattress folds side-to-side like a book, measuring 60" wide by 80" long when open (152 x 203 cm). When folded, it measures 30" x 80" (76 x 203 cm). Choose a thickness and the next page will offer you color choices. Or send us your own folding beds fabric.
---
Tri Fold Folding Futon Beds « Pick your thickness
Custom folding Tri-Fold bed. How plush would you like your folding tri-fold bed to be? This section offers you the option to pick your own bed thickness, as well as size and color of the folding tri-fold bed. Enter all your preferences for an instant bed price quote. (We stock 3.5" thick tri-folds, so these tend to ship faster.)
---
The Fully Customized Folding Tri-Fold Bed « Design your own tri-fold futon!
Specify all dimensions, pick a fabric color, and choose from many foam qualities to create your own unique folding tri-fold bed!
Enter the length, width, and thickness for the folding tri-fold bed when it is folded out lying flat. Click "Price Quote," and prices for the different foam qualities will be listed, as well as fabric cover color choices. Choose a folding foam quality for the folding bed from this price comparison list, and we will make your custom folding tri-fold bed to spec.
Minimum and maximum dimensions:
Length:
Width:
Thickness:
36 - 120 in
18 - 120 in
1 - 24 in
(91.4 - 304.8 cm)
(45.7 - 304.8 cm)
(2.5 - 61 cm)
---