---
Protect your shipments and ensure your packages arrive safely.
We stock many types of foam to pad packages for shipping. Each foam can be cut into custom shapes, to your custom dimensions. We also sell convoluted (egg-crate style) packing foam sheets. All sales of packing foam are final; no warranty coverage is offered.
(Scroll down for packing foam CUSTOM CUT shapes.)
(Scroll down for packing foam CONVOLUTED SHEETS.)
---
CD100 Packing Foam
This firm foam has a density of 1.8 lb/ft3. It is very rigid when thicker than five inches. Available in gray.



Y33 Packing Foam
A light-weight foam of medium firmness. It comes in a light grayish-white color. Y33 is a 1 lb/ft3 foam.



3002 Foam
(Also used for sound insulation.) This is "Ester" foam—which is an anti-static foam. This makes it is ideal for packing electrical equipment like cameras. It is available in charcoal gray (3002ch) or blue (3002bl).



Y37ch Foam
Y37ch (discount) packing foam has a density of 1.2 lb/ft3, and is gray in color.



CD30 Foam
CD30 is the standard for anti-static foam. It is even more effective than 3002 Ester foam. This foam is pink in color, and has a density of 1.4 lb/ft3 with a 30 ILD.



Random Foam
Random is usually a cheap grade of medium-firm foam (sometimes it is very firm and sometimes it is soft, hence the name). We recommend this grade for any application that will not receive regular compression. Since this foam can shrink during shipping, it is best for uses that don't require exact measurements. Random foam may not arrive in the dimensions you have ordered. This foam varies in color, and usually has a density of 1.1 lb/ft3 with a 34 ILD — often it is better.



Rebond Foam/Carpet Pad
Rebond foam is made from recycled foam. It has an 8 lb/ft3 density and is very firm when thicker than three inches.


---
Pro-Tack Foam Adhesive
Magic foam adhesive! This spray glue can repair rips in foam, and attach surfaces together. It will permanently bond foam to fabric, dacron, paper, and wood surfaces. Dries in seconds. (Note: Pro-Tack should not be used on polystyrene.)

PRO-TACK wide web spray adhesive is one of the highest performance aerosol adhesives available. For both temporary and permanent bonding, this high solids product is ideal for uneven or porous surfaces and weight materials. Waterproof, flexible, transparent and non-staining, use PRO-TACK for your toughest adhesive applications with materials such as leather, cardboard, most plastics, and cloth. Formulated with the environment in mind, PRO-TACK contains NO CHLORINATED SOLVENTS OR OZONE DEPLETERS. Cleans easily with Mineral Spirits. Not intended for use on vinyl.

Spray foam glue
---
Packing Foam Custom Cut Shapes
We cut the following shapes...
Please click on the shape below that closest resembles what you would like to order. Next you will be asked to enter in the dimensions, and after that you will be given a price quote on a range of qualities.

















---
Packing Foam Sheets
We also sell convoluted sheets of 3002 (Ester), Y37ch (discount), random (discount), and CD30 (anti-static) foam. Thicknesses of 2" and 3" (5 and 7.5 cm) are available. We cut these egg-crate style sheets into rectangle, circle, and right-triangle shapes.
Note regarding custom cut pieces: We try to provide one seamless piece for your order. However, since this foam is manufactured in pairs, we will sometimes send two pieces of half the size you've ordered. For example, if you were to order only one 48" x 96" piece, we'd most likely send you two pieces at 48" x 48", unless there were other customer orders with similar dimensions. Therefore, it is recommended that you order sheets of packing- foam in pairs. If you are ordering many different size pieces then most of the time we'll send you the exact dimensions you've ordered. In addition, for pieces larger than 82" x 96" (208 x 244 cm), we'll send smaller pieces that will add up to your large piece. Finally, it is also important to note that the foam (except the "ester" foams) can lose some size from compression during shipping. Therefore, we also recommend that you order each piece 2" to 3" larger (5 to 8 cm) in the event that the full size is important.
Please click on a shape below...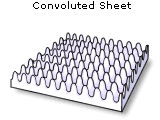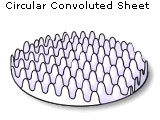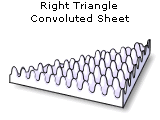 ---
Clearance Packing Foam
See our clearance section for extra packing foam items that we have in stock. These are simply extra, pre-cut pieces we have priced to move. The same warranty and return policies apply to these pieces as any other custom cut packing foam. In particular, because these items are offered at greatly reduced prices, a 25% restocking fee will apply to any return of a clearance item.
---