Natural Foam
---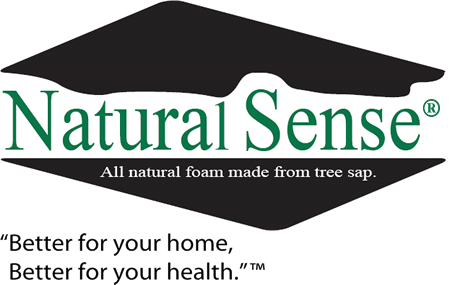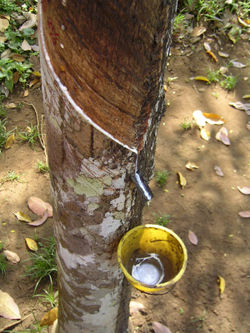 Foam can be found in your home's mattresses, furniture cushions, pillows, carpet pad, and clothing. Recent studies found that the flame retardant additives in traditional polyurethane foams are linked to breast cancer. If you ever tour a typical polyurethane foam factory, there are large signs at the entrance that warn "there are chemicals used in this facility known to the state of California to cause cancer." The foam in your home is a critical component to address in creating a healthy home. You can replace many of these items with Natural Sense.
Natural Sense is all natural foam that is manufactured using sap from the rubber tree. The tree is tapped and the milk from the tree is collected in a bucket similar to the way maple syrup is collected from Maple trees. Natural Sense's inherent dynamic contouring properties make it ideal for exercises, cushions, pillows, and much more. Natural Sense is naturally resistant to bacteria, mildew, and mold. This high density foam—almost 6 lb/ft3—will last up to 30 years when properly encased. It will biodegrade in as fast as a couple of weeks when exposed to the elements, completely turning to dust. Our Natural Sense foam is 100% natural. It contains 97–99% natural tree sap and the remainder is composed of natural soaps and residuals from the manufacturing process.
Our product line includes:
Custom cushions and sewn covers/cases using Natural Sense, natural fabrics, down, and feather casings
Organic Mattresses
Organic Green (bean) Bags
Natural Sense bed pillows
Seagrass furniture and bedroom sets cushioned with Natural Sense
Natural Sense is an ideal alternative to polyurethane (oil based) foam or soy based foams that imply they are all natural. Soy based foams are only 5–35% soy based and the rest is oil based derivatives.
Here you have the option to purchase Natural Sense raw foam blocks which are manufactured in standard block sizes (or, we can
custom cut
a particular shape and size for you, below).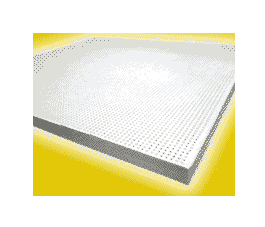 You will have the option to select from Soft to Extra Firm grades. The block sizes are about
6–6

1

/

4

"
(15–17 cm)
thick. Blocks of 76x80" and 72x84" are seamed from two 38x80" blocks. You can sometimes save money by purchasing the entire block and pay our cutting fees ($10–$20/cut) compared with ordering a custom size piece. Compare both methods to see which is more economical for your application. There will always be a seam when your custom size is wider than 38" or longer than 80". (By special request: If you do not want a glue seam on a piece of foam that is wider that 38" but does not exceed 60" wide,
contact us
and we may be able to complete your piece without seams using a solid block 60x80".)
This foam is heavy and will likely tear or become dirty when it comes into contact with different surfaces. We strongly recommend you purchase a case for this foam. You will be given the option to choose from a variety of organic fabrics, Sunbrella, natural fabrics, or vinyl. You can even send us your own fabric; visit our custom sewing page. The benefit of having us sew your cushions for you is one-stop shopping convenience, excellent sewing, and we will be responsible for the entire finished product—no finger pointing because of misfit covers: "It's the seamstress's fault." We sew the cases inside and out so they won't unravel when cleaned. We can also pre-wash/pre-shrink your fabric selection. All custom cushions are made with a zipper for easy removal and cleaning. Want matching pillows for your creations? No problem, click to see our pillows.
Natural Foam Blocks

---
Natural Foam - Custom Cut Shapes
We cut the following shapes...
Please click on the shape below that closest resembles the custom foam you would like to order. Next you will be asked to enter in the dimensions, and after that you will be given a price quote on a range of qualities. If you need help measuring, there will be a link above the shape, on the next page, that will explain how. You need to decide if you want a flat modern looking cushion (without any cotton wrap) or a "crowned or full" style cushion (cotton wrapped). If you choose no wrap then you should order your foam 1/2" (1.3 cm) thicker than its cover's boxing (see instructions on next page), otherwise your cushion won't fill out your cover properly.
You can skip ahead and click on a shape below that resembles your custom foam, or, continue reading on below the shapes about all the details of custom cushions (which we strongly recommend).
Maintaining your natural foam:
Spot clean natural foam with mild soap and water. Know how the fabric can be cleaned beforehand, so as not to treat it in ways that could cause it to shrink. If the foam from your custom cushions is put into direct sunlight or exposed to air for several weeks, it will dry out and become brittle. If your natural foam becomes wet, remove the cover and let the components dry separately in a room.
Custom cushions may not fit exactly the way you anticipated or ordered. In this circumstance a little bit of polyester or cotton stuffing can fill in any empty spaces. Don't be too worried about overly precise measurements when ordering. Foam is flexible and therefore very forgiving if your measurements are slightly off.

---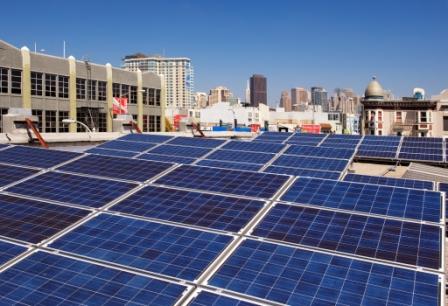 Our Mission & Commitment:
It is our mission to make our customers' lives more comfortable and stylish by viably conducting business with integrity, quality, and competitive value. It is our commitment to promote sustainable and healthy products and inform consumers of the risks of conventional foams used in cushions and mattresses. Thanks to our customers' generous business and support, we have converted our manufacturing facility to run on solar power. Our solar powered facility reduces 20 tons of CO2 emissions each year. It will run for the next 27 years.