---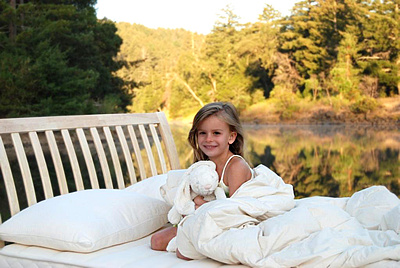 Latex mattresses made using the milk or sap from the rubber tree can last up to 30 years without forming depressions or softening. No other material offers the comfort and durability of natural latex. Our goal is for you to love your purchase for years. We are committed to meeting this goal, and we'll bend our policies to do this. So, if you were happy the first two years, and not the following two months, we would love to see what we could do to help remedy at little or no cost to you. Latex is hypoallergenic, and breathes to keep you warm in the winter and cool in the summer. When compared to spring mattresses, latex is considered much more conforming and evenly supportive. Latex mattress foam is naturally resistant to bacteria, mildew, mold, and dust mites making it an ideal mattress material for homes, boats, and RVs.
Natural Sense premium latex:
Not all latex mattress foams are equal. Some latex is not even natural! We offer several types of latex: our Natural Sense brand — a certified 100% Natural dunlop latex — or Talalay latex. When comparing these two, we have found that Dunlop latex (our Natural Sense brand) has much more integrity and longevity than Talalay. The Talalay process produces a more even latex cell structure at the cost of the integrity of the foam; more bubbles equals less foam and less longevity. All raw Talalay and Dunlop latex have naturally occurring flaws which include small tears, air pockets, patches, and changing surface textures. We have also created a unique sleeping solution for couples: see our "Split Firmness" queen and king size mattresses, below. Looking for bedding for your baby? Try our crib size organic mattresses!

All latex mattresses include
a supple double knit thick
case for free!
Latex mattress Firmness:
"ILD" is the standard numbering system for rating foam firmness. ILD is the number of pounds it takes to compress a sample of latex one inch. We carry 5 different firmnesses: Soft (17-25 ILD), Medium (26-30 ILD), Firm (31-35 ILD), Extra Firm (36-42 ILD), and Hard (43-48 ILD).
Why buy your latex mattress from us?
We are one of the few companies that offer all 5 firmnesses. Utilizing layers with specific firmnesses we can produce a latex mattresses with perfect comfort for even a "princess and the pea" sleeper. We are very unique in that we warrant our latex against forming soft spots AND depressions. We offer a 90-day trial period without restocking fees, beginning once your mattress ships.
---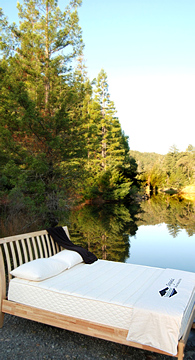 Natural Sense Latex mattress
covered with organic pillow top case
(Scroll down for CUSTOM CUT latex shapes.)
Latex Mattresses
Latex mattresses are the Cadillac of all mattresses. All of our latex foam mattresses are "no flip" mattresses. The quality of the product is such that it does not require flipping or turning, and we warrant against any reason that would cause you to flip your mattress!
To increase the thickness, comfort, and aesthetic appearance of your mattress you can simply add a topper or choose a layered configuration. Layered configurations are the most popular, and easily allow for layer exchanges if you're not satisfied with the comfort of your starting configuration. The most popular combination is a softer layer over firmer layers so you have support. We custom sew the casing size to fit the total number of layers you order to ensure a snug fit!
How thick of a mattress should I choose?
Softer mattresses will need to be thicker: filled with 9"-12" of natural latex. The weight of a person also determines how thick the mattress should be so it won't bottom out. For instance, 6" of soft or medium latex will bottom out under the weight of a 170-pound person. Conversely, layering 6" of soft latex on top of 6" of medium latex creates a wonderful soft mattress that won't bottom out for someone weighing up to 240 pounds. Give us a call, our salesman are excellent at helping to direct you to a selection that will work best for you.
To create a thicker mattress (9" or more) without increasing the cost substantially, consider adding however many inches you'd like of our EconoFlex C55 conventional polyurethane foam. This can be placed at the bottom of the mattress with little to no change in the feel or durability of the mattress. If you choose to do this, please specify in the notes on the shopping cart screen that it is all to be combined in one case. (For example: 5" of EconoFlex™ + a 6" firm latex core = an 11" super mattress.)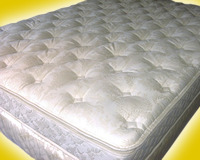 Diamond Quilted Case
on a Latex Mattress
How to Make a
Comfort Exchange
Natural Latex Mattresses Quotes
These are the highest grades of quality latex. We find that our Natural Sense latex holds up the best and is rarely returned. We also offer 100% Natural Talalay Latex, and Talalay.
Choose size for a price quote...
Custom Size Latex Mattress Beds
Latex mattress beds can be custom cut and sewn for approx $30 extra. We can produce custom latex mattress beds in any shape and for boats. Since its least expensive to cut from standard sizes give us a call and we'll help with the quote of your custom latex mattress beds.

Larkspur Latex Mattress with a
soft, supple Double knit Case!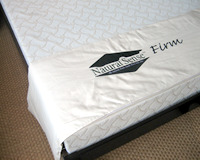 Latex Mattress with
Double knit Case
The Larkspur Latex Mattress
Enjoy the best of all worlds with this innovative latex mattress:
The aesthetics of a thick mattress
The orthopedic support of latex
The economy of conventional foam (the best conventional foam on the planet)
We now wrap all Larkspur mattresses in a luxurious Double knit case!
We layer 3 inches of top-quality Natural Sense 100% natural latex on to your choice of thickness, premium conventional foam. While sitting on your Larkspur bed, you will feel the firm support of conventional foam. While sleeping, you will only feel the pressure-relieving latex. Only latex naturally provides you with the deeper, more regenerative night's sleep. Never again will you wake up with the aches caused by insufficient support, or the stiffness and pain created by inadequate pressure relief. Nor will you want for a bed that is comfortable and compatible with sitting. Ours does both!
Choose dimensions for a price quote...
The Split Firmness Latex Mattress
Couples no longer need to compromise when it comes to the firmness and support of their shared bed. Does he want a firmer mattress, or does she need a mattress that's a little softer? Both needs are met with this "combination" mattress; half of the bed comes in one firmness, while the other half of the bed comes in a different firmness (both customized to personal preference). The halves are completely bonded together in such a way that it is nearly impossible for the foam to slide out of place! On top of that, the entire mattress comes covered in our thick Double knit casing. One mattress, two great nights' rest!
100% Natural Talalay Latex is now available in medium and firm densities! (If you're not devoted to 100% Natural Talalay Latex, the ordinary Talalay Latex has a more even cell structure in the King size, which makes an even higher quality mattress. Regardless of which type you prefer, all of our latex mattresses are warranted for 15 years.)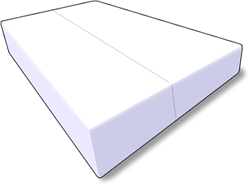 Natural Latex Crib Mattress
A lot of parents fear for the health of their newborn. This is a justified fear, since it was only recently that we found out a very commonplace chemical was linked to nervous system developmental problems. In today's chemical society it's unfortunate to be surrounded by so many damaging chemicals. Use our Natural Sense 100% natural latex to create an all-natural environment for your baby's rest to insure a healthy future. Latex is naturally anti-microbial and dust mite free, thwarting bacteria and dust mites that can wreak havoc on babies. Our Natural Sense latex is free from the flame retardant additives for which there have been reported links to breast cancer. These flame-retardants exist in carpet pads, cushions, and all foam and spring crib mattresses. With our all-natural crib mattress you will breathe easier knowing your baby is sleeping on a toxin-free surface.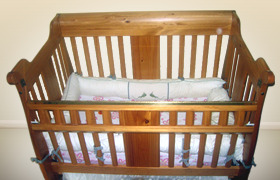 100% Natural Latex Crib Mattress
(Crib not included)
The outer double knit cover is zippered and removable/washable.
Standard crib size is 52 x 28 x 6 inches (132 x 71 x 15 cm). This is our default crib mattress size, but we can produce a custom crib mattress. There is an additional cost. Simply add comments to your shopping cart to specify your crib mattress dimensions. Confused? Give us a call and we will take you through it, step by step.
Read about
the MattressGuard mattress protector...
Is Latex 100% Natural?
Not all latex mattresses are created equal:
Anyone can advertise their latex as "100% Natural" even if the latex is not. Real "100% natural" latex should be made with at least 97% natural tree sap. Since some people opt for higher percentages of synthetic ingredients (a cheaper way to manufacture the foam), many people are misinformed about the latex they receive. Example: If latex foam is 85% synthetic ingredients and 15% natural, it may be advertised as "100% Natural" as long as the 15% of natural ingredients are 100% natural tree sap. To protect yourself, demand a certified test. Our Natural Sense brand latex is independently certified 100% natural latex.
Things To Watch Out For in your latex mattress:
Anything advertised as a mattress must pass strict fire codes enforced on all mattresses. Latex mattresses will always contain a flame barrier. You should pay attention to the type of flame barrier that is used as most synthetic flame retardants use known carcinogens. We offer a natural organic barrier (see organic mattresses) or a double knit thick fabric encasement included with every mattress purchase. The double knit uses a combination of natural cotton and polyester fibers with a fiberglass weave woven into the bottom of the material to pass mattress flammability requirements. Steer away from any places that refuse to disclose what they use. Also be wary of "green tea" or "soy" blended foams. A majority of these products use only 5% to 35% natural ingredients, so don't be fooled. The last — and what may be the most important — thing, is to familiarize yourself with the warranty offered. Look at other warranties; chances are they are prorated after 10 years, and they require a "1.5 inches" or greater indentation. Almost all our competitors don't even cover loss of firmness!
---
Custom Cut Latex
Almost all couches or chairs are created with petroleum based foams. If you want a healthy alternative, then be sure to switch it out for something natural! The latex sold in this section is certified Natural Sense brand 100% natural latex. The latex prices quoted through the links below may have natural latex glue seams. If you wish to avoid this then you need to contact us before ordering.
We cut the following shapes...
Please click on the shape below that closest resembles what you would like to order. Next you will be asked to enter in the dimensions, and after that you will be given a price quote on a range of firmnesses. Be sure to enter in the quantity you want to order on the next page. The prices drop for more than one piece.
---
Clearance latex
See our clearance section for extra latex items that we have in stock. These are simply extra, returned, or mis-cut pieces we have priced to move. In particular, because these items are offered at greatly reduced prices, a 25% restocking fee will apply to any return of a clearance item.
---