---
Foam Toppers Comparison:
Natural Sense (an independently
certified 100% natural foam
made from sap of the rubber tree called "latex") and foam toppers both offer superior contouring support and improved circulation when added to a firm mattress. This results in less tossing and turning and the best night's sleep. The main difference is that a memory foam topper is quite still while the Natural Sense foam toppers are springy and lively feeling. Both foam toppers provide high-end luxury comfort and are resistant to dust mites and mold. These toppers also reduce or mute the affects of your partner's tossing and turning. We strongly recommend the Natural Sense toppers for their all-natural properties and benefits—it is certified natural tree sap. It will also outlast nearly 2:1 the best polyurethane/memory type foams, lasting almost 25 years without softening or forming depressions. Memory type foam toppers, also know by a popular brand, are popular polyurethane foam toppers that are derived from petroleum. They are petrochemical products and "off-gas."

---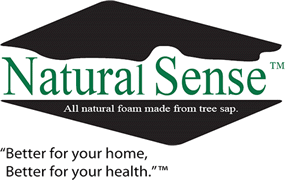 Choosing the right Mattress topper:
Most mattress toppers are used to soften and improve a hard or firm mattress. They do not improve a sagging mattress or one with body depressions, which mean you need to buy a new mattress. When selecting a foam mattress topper you should consider how much "cushioning" or "improvement" you want. Typically, most people prefer a 3" mattress topper as it produces the greatest increase in comfort. People who select a 2" thick topper do it because they are on a budget or only desire a slight improvement in their comfort. Most stomach sleepers also prefer a 2" toppers pad.
How should I protect my foam topper?
Foam toppers are magnets for dust and dirt, and tear easily. Our cotton covers are custom sewn to completely encase your foam topper order. These are highly recommended to protect your foam from staining or tearing. The covers are made of soft 100% cotton, and have a deluxe satin finish. All covers have a zipper so that they can be easily removed and dry-cleaned. Please note that these covers should be dry-cleaned only. We cannot accept returns on shrunken covers. The natural degradation of Natural Sense toppers is slowed with a cotton cover. The less air flow, the slower it will dry out.
Return Policy:
Try our Natural Sense toppers or 5.3-lb Foam toppers risk free for 90 days. If you are not completely satisfied, you may return them in brand new condition—no restocking fee.
Mattress Topper - Natural Sense 100% natural latex foam topper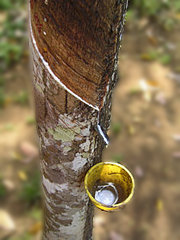 Most people choose either our soft or medium toppers. The soft toppers feel like nice, soft foam toppers. The medium toppers are reported by many customers to offer the perfect balance of comfort and support. Our premium Natural Sense foam topper is made from 100% natural tree sap, which results in a longer lasting, more resilient latex. It is very important to get a case with these mattress toppers. Natural Sense is a natural product and needs the protective layer to reduce air flow and slow the natural biodegradation caused by it drying out. Without it, biodegradation is accelerated. Only the California King size toppers are made with seams. This product and any seams are warranted for 15 years to maintain their firmness. Biodegradation is not warranted. Natural Sense toppers have natural flaws that include discoloration and small tears. Choose from our poly cotton cover or
certified organic cotton covers
. Currently our 0.9", 1.8", and 3.75" toppers are only offered in "soft" firmness on ths page. You can purchase the other firmness pads in our
clearance section
, as well as find returned foam toppers at huge discounts.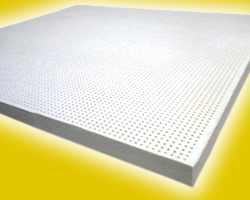 How to Make a Comfort Exchange
---
Foam Mattress Topper by PostureSense™

Memory foam is renowned for its comfort and can eliminate tossing and turning. Motion does not transfer through memory foam toppers.

We offer a 90-day trial on our 5.3-lb density Mattress toppers. Please read our foam toppers comparison at the top of this page.

All of our foam mattress toppers measure out to the edge of your mattress. We offer every size foam mattress topper including Twin XL (extra long), which is 38x80. The lower density mattress toppers allow you to sink through, while the higher density ones provide more resistance and better performance. Our most popular and most demanded deluxe memory foam mattresses use 4" of our 5.3-lb density memory foam.

If your mattress is already dipping you cannot solve this problem with any foam topper. You need a new mattress. Conversely, if your mattress is too firm, it can be made very comfortable with these memory foam toppers.

About the memory foam topper market:
Some competitors cut cost by making their toppers less than full bed sizes—not us. We've been selling memory foam toppers since 1997, long before they became popular. Our experience has shown us that toppers with a 5-lb/ft3 density or less tend to break down and soften over time. We've had to make many warranty replacements from brands such as Sensus and Isotonic, and because our warranty is the best in the industry (we pay all shipping charges) it has cost us a lot of money. The brand-name leader established that a 5.3-lb density will hold up the best, and many years ago we switched to our current 5.3-lb memory foam and have no longer experienced any warranty claims. Yes, that extra three-tenths of a pound of density has made all the difference. Further, the superior comfort of our 5.3-lb memory foam has resulted in nearly no returns for comfort reasons even with our 90-day trial period. You may pay a little more for our memory foam toppers, but you really do get what you pay for.

| | |
| --- | --- |
| Density | Resistance |
| 5.3 lb/ft3 | Medium/Soft |
| 4.0 lb/ft3 | Medium |
| 3 lb/ft3 | Medium |

WARRANTY/RETURN NOTE:
The 3-lb and 4.0-lb memory foam mattress pads are not returnable. They are warranted for three years from forming permanent dents or body impressions.
---
Egg Crate Foam Toppers from C30 foam

Egg crates have long been a popular solution for softening a firm mattress. These egg crate toppers are approximately 2 inches (5 cm) thick and made from our good quality C30 foam. Many people use egg crates with the bumps facing up or down. This foam has a 1.8-lb/ft3 density that contrasts with toppers from major chains that have a density of about 0.8-lb/ft3, or less than half the quality. Our C30 egg crates are a good quality and will last much longer without softening (up to 5 years). Additionally, the foams used to produce these pads do not contain any toxic fire retardant chemicals.

EverFlex™ 3-inch Soft Egg Crate Topper

— 15-year warranty

This approximately 3-inch, extra thick egg crate pad is made using our premium EverFlex™ foam. This is the perfect foam topper for fans of great egg crate pads. It will not flatten out like those discount egg crates from chain stores. The long fingers will gently press all along your spine, stimulating your pressure points and relaxing your body ... for up to 15 years!

Natural Sense 100% natural latex Egg Crate Foam Topper

We produce these approximately 2" egg crate pads using Natural Sense certified 100% natural rubber. You've never felt anything like this! It is very important to get the cotton case with these egg crate pads. Natural Sense is an all-natural rubber product and needs the protective layer. Without it, biodegradation is accelerated, and the product will slowly crystallize and dust off.

Cotton Cover
Price

Twin size


38x75 (97x191 cm)
$49.88

Long Twin size


38x80 (97x203 cm)
$49.88

Full size


54x75 (137x191 cm)
$59.88

Long Full size


54x80 (137x203 cm)
$59.88

Queen size


60x80 (152x203 cm)
$69.88

California King


72x84 (183x213 cm)
$79.88

Eastern King


76x80 (193x203 cm)
$79.88
---
| | |
| --- | --- |
| When we set out to make our organic mattress toppers we decided to use only certified organic cotton and 4" of soft and fluffy organic wool filling. This is approximately 37 ounces of organic wool per square yard. Dust mites cannot live in the organic wool in these mattress toppers. You should air out your wool mattress topper, preferably once a week but at least once a month, by placing it outdoors in direct sunlight. Shake it out vigorously to help loosen the wool fibers and leave it outside all day. You will love the fresh feeling you get when sleeping on your freshly aired wool topper. These wool toppers are ideal for heat control. They keep you warm in the winter and cool in the summer by wicking away perspiration. Do not wash, as the wool and cotton used will likely shrink. Because of the intimate nature of these toppers they are not returnable after being used. They may be returned in brand new condition in original packaging. Go to our organic wool mattress toppers page... | |
---
Clearance foam toppers
See our clearance section for extra foam toppers that we have in stock. These are simply extra pieces we have priced to move. The same warranty and return policies apply to these pieces as any other foam topper. In particular, because these items are offered at greatly reduced prices, a 25% restocking fee will apply to any return of a clearance item.
---