Captains Bed - Bosun Deluxe
Our Captains Bed (see picture at right) features a natural rice tatami mat on top of the captain bed. The tatami mat is two inches thick, quite heavy, and firm. These stylish mats are sold separately and are not a necessary part of the bed. You can purchase them on their own, below, or add them to your bed purchase by choosing the "Add Tatami mat" option.
This bed is an ideal 15.25" high. It is made of Ramen, a hardwood from Indonesia. The slats are two inches lower than the surface of the bed and will snugly hold your mattress in place. This captain's bed comes with two drawers. The side opposite the drawers is solid wood. Double your storage space by ordering a second set of drawers—this set will replace the solid wood side, so you'll have a set of two drawers on both sides of the bed. (Please see the "Extra drawer availability" chart below.) These beds can ship via UPS.
The Bosun Deluxe is available in four sizes: twin, full, queen, and king. Finish choices are Natural (light), Golden Oak (light), Honey Oak (medium), Antique Mahogany (darker), or Black finish. Last chance: We have the very last Honey Oak platform beds! When these beds are sold they will not be available again. The Black and Natural finishes are shown in the photos at right.
Finish availability:
Twin: Natural or Black
Full: Natural, Honey Oak, or Black
Queen: ALL finishes
King: Golden Oak, Honey Oak, Antique Mahogany, or Black
Extra drawer availability:
(Extra drawers are not available in Twin sizes)
Golden Oak, Antique Mahogany, Black: Full, Queen, and King sizes
Natural: Full and Queen size
Honey Oak: Full and Queen size
King size note: The King size in Black finish measures 72"x81.5", which requires you to purchase either the tatami mats or a piece of 2" firm foam to fill in the space where the tatamis rest—or you will have to purchase a custom mattress, which we can easily make (see our Foam Mattress, Latex Mattress, or Memory Foam Mattress sections). The 2" foam filler is made of EconoFlex™ C55 foam, which is a good firm foam.
Recommended Mattress: Many customers choose our PostureSense 10" Deluxe Memory Foam Mattress to go with this frame. You can order this recommended mattress at the same time as your bed frame, below. Also see our latex mattress and memory foam mattress sections for more information on these mattresses.
| | | |
| --- | --- | --- |
| | | Click here for a selection of matching night stands, tables, dressers, and more... |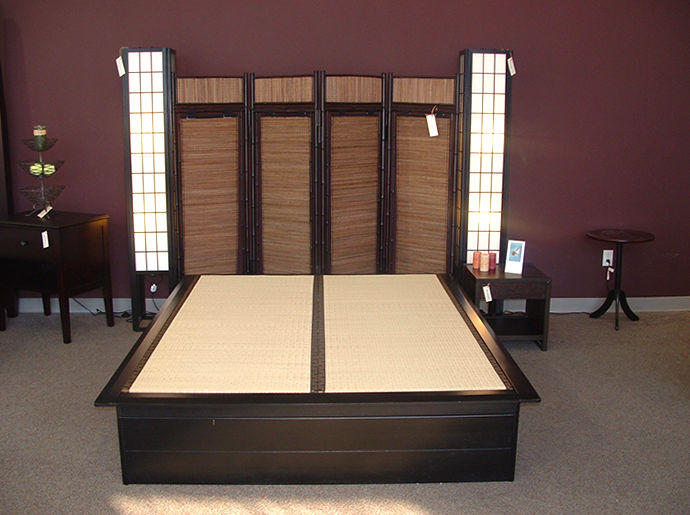 Captains Bed in black
finish with Tatami Lights

on display in our S.F. show room
Enlarge image