Boat Mattresses & Custom replacement boat cushions
---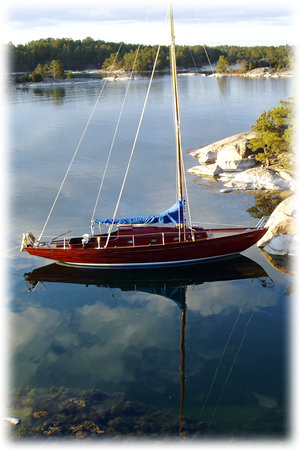 Are you tired of not getting the same comfortable night's sleep as you do at home? Enjoy all the comforts of home while on your boat with one of our custom made foam mattresses! You can select from PostureSense memory foam, Natural Sense all natural foam used in our organic mattresses, or conventional foams. Mattresses made from any of these premium foams can be constructed with a firm supportive base layer that offers proper spinal support, and a softer contouring top "comfort" layer that increases circulation, resulting in a deeper, more restful night's sleep. These foam mattresses come with excellent warranties and can last up to 20 years or more without losing (more than 10%) firmness or forming depressions.
We can help you design and customize a mattress that will offer years of comfort and deep sleep. A boat mattress's thickness is often restricted to 4"–6" (10–15 cm) and must serve the dual purposes of sleeping and sitting. Therefore, the best performing and most comfortable option involves the combination of a bottom layer that is usually 3" (8 cm) of firm supportive foam topped with a comfort layer of 2"–3" of a quality softer foam.
Perhaps your boat mattress is too hard or just old and in need of upgrading. In that case, try one of our mattress pads. We can cut to size any standard sized mattress pad for an extra $10–$25 labor (simply make this request by using the "Add comments" link found in the shopping cart). This cut-to-size option is important since it is often less expensive to order a standard sized foam that we can cut down than it is to order a custom sized foam. This particularly applies to our Natural Sense foam and memory foam pads. We are happy to help you create the most economical solution — contact us.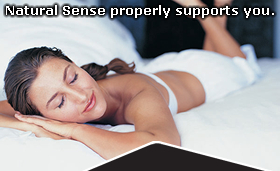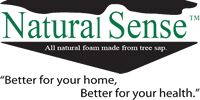 Beveled Edges:
We even have the ability to bevel the edge of your boat mattress to match the contour of your boat. You have three options: (1) send us a pattern, (2) send us your old mattress cover (washed), or (3) send us your old boat mattress.
Preparing a Pattern:
Most custom shapes do not require a pattern, but if yours does, constructing a pattern does not need to be intimidating or complicated. Using butcher paper, cardboard, or fabric, simply trace and cut the pattern you desire. Make your pattern in the exact size needed; don't make allowances for any of our filling options. Please indicate on your pattern which side(s) should be used for zipper placement. Keep in mind that most mattress covers work best with a zipper wrapping around three sides. If you select our "Odd and Pattern Shapes" option, you will be given instructions for sending in your pattern at the end of the ordering process.
If you need a pattern for a beveled edge, you can use one side for the top pattern of the mattress and draw a line on the other side indicating the edge for the narrower bottom pattern. This works fine as long as your bottom and top shapes start on one side from the same edge.
If you want to send us your old foam mattress to use as a pattern, we are happy to supply you with a vacuum packing kit at no cost (it is usually necessary to vacuum pack your mattress to reduce its size and reduce shipping costs that will be added to your total). Use the "Add comments" link found in the shopping cart to indicate that you desire to send us your old mattress and need us to "send a vacuum packing kit and arrange a UPS call tag" pick-up when you have it packed. To place an order, all you need are the largest dimensions (thickness, length and width) from your old mattress or custom shape. See the "Odd and Pattern Shapes" option, below.

Quotes & Order Placement:
To generate a quote, all you need are your dimensions and to pick (click on) a shape below. If you are using the "Odd and Pattern Shapes" option, all you need are the largest outside dimensions (thickness, length, and width). Keep in mind that layers create the most comfortable mattress. Next, you will need to select what type of foam you are interested in. Natural Sense foam comes in several firmness choices. It is an all natural foam and resistant to mold and mildew. Memory foam is a great top layer for comfort but needs to be used with a firm bottom foam for support. Both memory foam and conventional foam cost less than Natural Sense, but are synthetically derived byproducts from oil. You may start below, by clicking the shape that matches your needs. If you have questions or need help, please call one of our sales professionals at (415) 503-1133 or (415) 503-1188 to help assist you in building the boat mattress of your dreams!

Boat Mattress Maintenance:
Boat interiors are frequently moist. This moisture gets trapped between your mattress and the boards below. To help avoid problems with mold or mildew, air your mattresses or cushions outside in the sun every couple of days but don't remove the covers. When you are not using your boat, store your mattresses vertically in the aisle. For added protection, you can sprinkle anti-fungal powder (found at most drug stores) on the platforms below your mattress, as well as on the bottom side of the mattress.
We cut the following mattress shapes...
Please click on the shape below that closest resembles what you would like to order. Next you will be asked to enter in the dimensions, and after that you will be given a price quote on a range of qualities.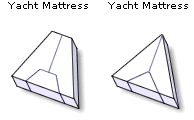 ---
Browse Related Products:
---
Boat Matress . Crib Mattresses . Foam Mattress . Mattress Pads . Organic Mattress .