Boat Cushions & Custom Interior Mattress Replacement cushion
---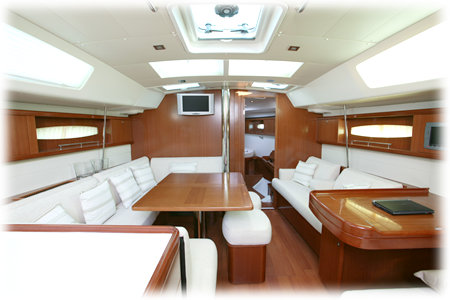 We offer a number of options to replace or upgrade your seats and boat cushions. Choose from our FloTex flotation foam, drainable outdoor foam, economical conventional foams, or Natural Sense all natural foam. Then, combine them with a nice, new cover from our Sunbrella line of fine outdoor or indoor fabrics. Be sure to check out our selection of marine-grade vinyl as well. Take a look below to see just a few of the many shapes that we can produce to your specifications...
Cushions/V-berths:
Boat cushions are also used for sleeping. In this scenario, it's most comfortable to use two layers of foam. The base layer is usually 3" (8 cm) of firm supportive foam that is great for sitting, and the top layer is 1"–3" (3–8 cm) of a premium softer layer that is ideal for a mattress top. This combination works best for a great sitting and sleeping cushion.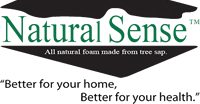 Beveled Edges:
We have the ability to bevel the edge of your boat cushions to match the contour of your boat. You have three options here: (1) send us a pattern, (2) send us your old cushion cover (washed), or (3) send us your old boat cushions.
Preparing a Pattern:
Most custom shapes do not require a pattern, but if yours does, constructing a pattern does not need to be intimidating or complicated. Using butcher paper, cardboard, or fabric, simply trace and cut the pattern you desire. Make your pattern in the exact size needed; don't make allowances for any of our filling options. Please indicate on your pattern which side(s) should be used for zipper placement. If you select our "Odd and Pattern Shapes" option, you will be given instructions for sending in your pattern at the end of the ordering process.
If you need a pattern for a beveled edge, you can use one side for the top pattern of the mattress and draw a line on the other side indicating the edge for the narrower bottom pattern. This works fine as long as your bottom and top shapes start on one side from the same edge.

If you want to send us your old foam cushions to use as patterns, we are happy to supply you with a vacuum packing kit at no cost (it is usually necessary to vacuum pack your cushions to reduce their size and reduce shipping costs that will be added to your total). Use the "Add comments" link found in the shopping cart to indicate that you desire to send us your cushions and need us to "send a vacuum packing kit and arrange a UPS call tag" pick-up when you have them ready. To place an order, all you need are the largest dimensions (thickness, length and width) from your old cushions. See the "Odd and Pattern Shapes" option, below.

Quotes & Order Placement:
To generate a quote, all you need are your dimensions and to pick (click on) a shape below. If you are using the "Odd and Pattern Shapes" option, all you need are the largest outside dimensions (thickness, length, and width). Next, you will need to select what type of foam you are interested in. Outdoor foam is great because it doesn't absorb water, drains immediately, and lasts a long 10 years. FloTex is a firm certified flotation foam. Natural Sense foam comes in several firmness choices. It is an all natural foam and resistant to mold and mildew. Memory foam is a great top layer for comfort but needs to be used with a firm bottom foam layer for support. Both memory foam and conventional foam cost less than Natural Sense, but are synthetically derived byproducts from oil. You may start below, by clicking the shape that matches your needs. If you have questions or need help, please call one of our sales professionals at (415) 503-1133 or (415) 503-1188 to help assist you in building the boat cushions of your dreams!

Boat Cushion and Mattress Maintenance:
Boat interiors are frequently moist. This moisture gets trapped between your cushions or mattress and the boards below. To help avoid problems with mold or mildew, air your mattresses or cushions outside in the sun every couple of days but don't remove the covers. When you are not using your boat, store your mattresses or cushions vertically in the aisle. For added protection, you can sprinkle anti-fungal powder (found in most drug stores) on the platforms below your mattress or cushions, as well as on the bottom side of the cushions.
We cut the following shapes...
Please click on the shape below that closest resembles what you would like to order. Next you will be asked to enter in the dimensions, and after that you will be given a price quote on a range of qualities.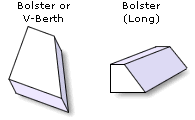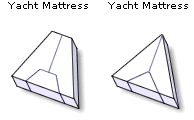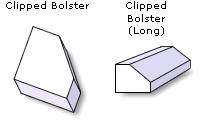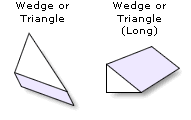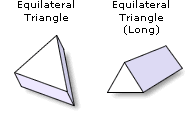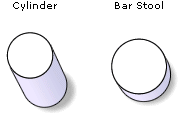 ---
Browse Related Products:
---
Boat Cushions . Custom Cushions . Organic Cushions . Down Cushions .