Guest Bed
---
Everyone will use a guest bed differently. "Which guest bed should you choose?" is often the question. Should you splurge for a great guest bed or a cheap guest bed that will not be used very often? We will give you all the information necessary to make the perfect decision on your own.
Guest bed — yours may get barely any use (say, about a few months each year). In this case you can choose our inexpensive guest bed line. These will hold up fine to this sort of infrequent use. However, the more it is used the higher quality product and costly it will need to be in order not to fail. When a guest bed fails, it forms uncomfortable soft spots and body depressions. So be suspicious of any inexpensive guest bed as these will likely soften and sag after a few months' use! All our competitors offer 10-15 or 30-year limited warranties, but if you read the fine print, you'll see that a depression in excess of 1 1/2" needs to form to have a valid claim. But when the guest bed begins to soften and dip a little bit it will cause immense back pain and yet it won't qualify for the limited warranty. Our premium guest bed lines offer a full warranty against soft spots from forming or any amount of body depressions.
A minimum of 4" is recommended or you will likely bottom out the guest bed.
Want your guest bed to be plush and luxurious? Try either a memory foam guest bed, or place a memory foam topper on top of whatever guest bed you already may have. Choose one of our foam toppers that is not the cheapest for your guest bed!
Here we offer several guest bed lines to choose from. You will find a useful price range summary below each listing.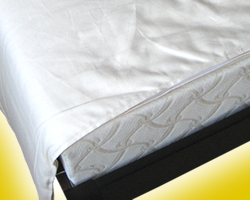 Eco Memory Foam Mattress
Guest Bed:
Eco Memory Foam Guest Bed — Uses soy-blended foam. "Eco" is used here both for the improved use of natural materials and for its economy and value. This mattress is an excellent choice for your guest bed. This guest bed's ideal use is for those who like a guest bed on the firmer side (even our "medium" density tends to feel firm for some), and when used intermittently will last up to 15 years. Due to this product's value and green components, it is one of our best sellers. A Medium-Firm density Eco Memory Foam guest bed is on display in our San Francisco showroom. This guest bed has a five-year prorated limited warranty.
Price Range: low $100s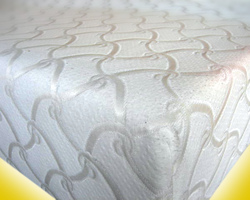 Guest Bed Foam Mattress
Guest Bed Foam Mattress — Choose from soft inexpensive guest bed foam to super-firm guest bed foam. Tip: To build economical comfort, layer softer guest bed foam over firmer guest bed foam and we'll combine them into one case. This will prevent bottoming out but allow side sleepers extra comfort. For example use 4" of C25 (a soft guest bed foam) over 2" of C55 (a firm guest bed foam). Contact us, and one of our reps can help to place this order for you. Warranties vary depending on the quality of foam chosen.
Price Range: low to mid $100s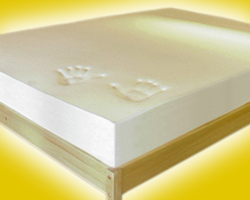 Deluxe Memory Foam Guest Bed
Deluxe Memory Foam Guest Bed — Experience higher end comfort offered in this line. Our memory foam guest bed is designed and warranted for every day use to not soften or form depressions for 15 years. The only problem is your guests are not going to want to leave! But, if it's for the spare bedroom that you will use when you-know-who is snoring too loudly, then you will appreciate the extra comfort. This line is our least returned and most enjoyed guest bed. If you would like to read all about this wonderful guest bed, visit our memory foam page.
Price Range: $500 - $2000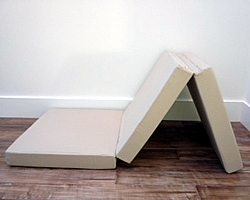 Folding Guest Bed
Folding Guest Bed — Flip 'em fold 'em and store 'em. This fold out guest bed uses excellent quality firm foam. Because these are advertised as guest beds, they include costly flame barriers. On the next page look for a link in the right hand upper corner to save $100s without the flame barrier.
Price Range: $80 - $500
Continue to Folding Guest Beds...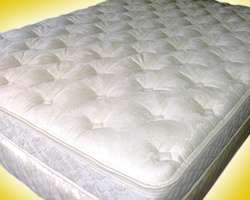 Latex Guest Bed
Latex Guest Bed — Another premium comfort guest bed. Natural latex foam is solid 100% natural tree sap from the rubber tree, and lasts up to 25 years under regular use without forming depressions or soft spots. For quotes simply use this drop down menu. To first read more about our latex guest bed line (and to see more latex mattress styles and thicknesses) please visit our latex section.
Price Range: $500 - $2000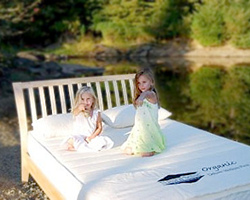 Organic Latex Guest Bed
Organic Latex Guest Bed — Takes our latex guest bed to a higher level of quilted comfort, and utilizes certified organic cotton fabrics and organic wool as a flame barrier. To read more about our organic guest bed line, visit our organic guest bed page.
Price Range: $700 - $3000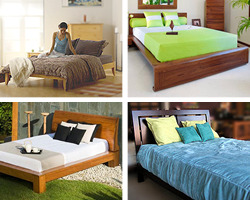 Platform Guest Beds
Platform Guest Beds
Need a Platform Guest Bed? Click on the collage image to browse many types of platform guest beds. (On the next page, click the collage image again to expand it and see all of the beds offered.)
---