Teen Bedroom Furniture
The concept driving the Teen Trends line is style surrounding functionality. This collection has the modern teen's bedroom in mind with space-saving designs and contemporary themes which reflect the updated style. Each commercial-grade quality piece is constructed from heavy-gauge, powder-coated steel. In addition, each piece comes with changeable color drawer panels to allow for a variety of colors. The primary color panels feature: Navy, Red, Dark Sage, Orange, and White. Also see the Teen Bed, which matches this furniture.

Teen Furniture - Teen Full Loft Study Bunk
The Teen Full Loft Study Bunk is the ultimate in durability, functionality, and just plain cool design. It's a complete youth bedroom in the space of a full size bed! This versatile loft bunk includes a full size upper bunk and a study desk unit underneath. The desk is set up to handle computers or video games with pull-out keyboard tray, hanging shelves and CD racks. Made from industrial strength powder coated square tube, barstock and sheet steel in a silver finish with inset laminated top panel. An upbeat, cool look that's not just for school anymore.
The Primary Colors study bunk includes changeable Navy, White, and two (2) Orange small panels. Desk includes changeable Navy and Orange large panels. It holds a standard full size mattress, which can be purchased separately. The Steel Plate design study bunk holds a standard twin size mattress, also purchased separately. These beds require some assembly.
We have many more bunk beds in our Bunk Bed section.
Full Study Loft bunk bed
80" x 58" x 72.25" H

Twin Study Loft bunk bed
80" x 42" x 72.25" H

Twin/Full bunk beds
79.75" x 56" x 59.75" H



(203 x 147 x 184 cm)


(203 x 107 x 184 cm)


(203 x 142 x 151 cm)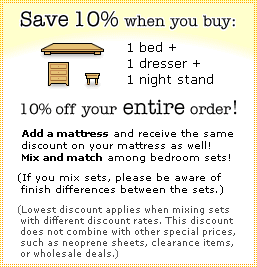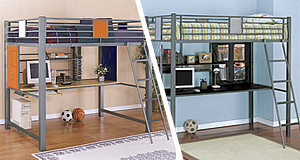 Full and Twin size loft bunk beds
with built-in study desks


View bunk bed photo album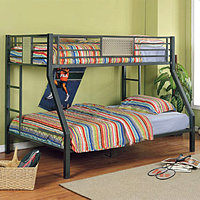 Twin/Full Bunk Bed
Enlarge image