Platform Beds
---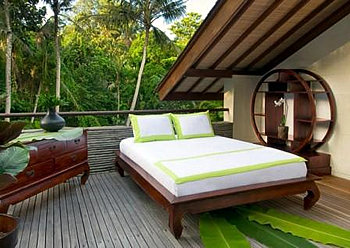 Poppy Japanese Platform Bed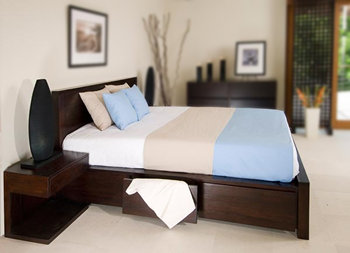 The Del Rey Platform Bed is made in California from solid American oak with veneer inserts in the headboard and footboard. Drawer fronts are also solid wood.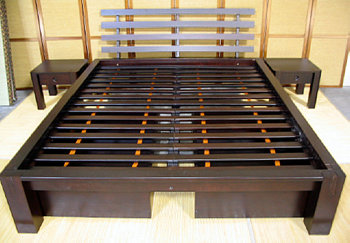 Sunset Storage Platform Bed
Platform beds may be browsed quickly by simply clicking the images in the categories below. Please take a moment to familiarize yourself with the facts and advice below. It has been written for your benefit.
Things to know about platform beds before you buy
Some of our suppliers choose to work with solid woods or veneers. The advantage of veneer is the flat surfaces are uniform in color and will not split or crack over time. Veneer platform beds may get chipped and reveal particleboard or plywood underneath. Veneer is important for many climates and used in solid headboard styles and dressers. Platform beds primarily made from hardwoods, are easy to touch up and can last a lifetime. Combinations of solid wood edges and veneer flat surfaces tend to last the longest. Want to try something more sustainable? Choose the frames made from sustainable wood sources indicated in the descriptions of the beds below. Some of these platform beds will be made using non-toxic stains and wood glue that doesn't off gas.
Platform Bed Styles
We have a wide variety of platform beds to pick from; from a storage platform bed frame to a Japanese platform bed, Contemporary to modern platform beds, we have it all! Whether you are looking for a dark black modern platform bed frame with drawers underneath, or a rich natural colored Asian styled platform bed frame, you will be able to find it within here. Most of these platform bed frames are created with the intended use of having a mattress placed directly on the slats (which is how our Natural Sense mattresses are made), but if you desire to raise the bed, or utilize a box spring foundation, you can!
---
Japanese Platform Beds: Japanese beds are a stylish and simple way to furnish a bedroom. Typically made so that Tatami mats may lay flush in the frame, they make a great addition to a bedroom set. Typically the aesthetics will include; soft curves, elegant and simple construction, low to the ground, and possibly a headboard. Offered in many finishes, these platform beds are flying off the shelves.
Modern Platform Beds: Contemporary or Modern Platform Beds approach to bedroom furnishings. Typically created with flat finishes (sometimes dark wood finishes), these straight and sleek platform beds exude a modern mentality. Typical aesthetics may include, flat and straight boards, vertical headboards, flat color finished (some wood, some metal). Some don't access under the platform bed.
Sleigh Platform Beds: Sleigh beds are exactly as they are described: in the shape of a sleigh. Typically this means it will have a raised headboard and footboard (curved, vertical, or even at an angle) that protrude from the frame. Since this is really the only aesthetic that qualifies a bed as a "sleigh bed," you will find that it is one of the most diverse categories. From straight and contemporary, metal and modern, to wood and traditional, or curved and Japanese, you are bound to find the one that fits you.
---
Storage Platform Bed: Storage platform beds are the space saving solution to furnishing your bedroom. These platform beds can be ANY STYLE, but once you slap some drawers on the frame, it has become a storage platform bed. Some platform bed drawers will roll across the floor and some will be on glides. Some will be modern and sleek, and some will be Japanese and elegant. Be sure to check the finishes available other than what is simply pictured!
Canopy Platform Beds: An important thing to remember is that canopy beds usually can convert to just four-poster platform beds by removing the top canopy bed rails. These rails are not critical so you can change the look at anytime. Canopy beds are some of the most deluxe beds made. Created for luxurious lounging, these bed frames will provide a sense of privacy that no other frame can attain. These will totally change the way you view your sleeping quarters. NOTE: Most Canopy beds will not include the canopy. We can custom make them to order so be sure that you call us with any questions!
Transitional Style Platform Beds: This style platform bed is between traditional and modern style platform beds.
---
---
Platform Bed Shipping and Assembly
Platform beds take some work and time to assemble. We can offer assembly for the platform bed frame if you are located within a reasonable distance from our store (at an additional charge). We can even have a white glove service delivery and assemble if you are not near by for a fee. If your order exceeds $1200, we offer discounted or free shipping of your platform bed! This means with a few nicely planned pillow purchases (or maybe a mattress too) you can save BIG on shipping.
Platform bed maintenance is not difficult. Each style of platform beds will offer a variety of finishes. If you accidentally chip or scratch your frame, it can be easily touched up! When fixing small mars, be sure your finish is the same color, and we advise a clear coat after it is applied. Your local hardware store will have everything to fix platform beds.
Still not convinced? We are a family-owned business that has been in operation since 1973. We will take responsibility for any defective platform beds you receive. This means that we never ship out a frame that is damaged. Last, but certainly not least, it means your platform bed order will be in caring hands. Good luck and have fun!
DON'T FORGET! We offer matching furniture as well!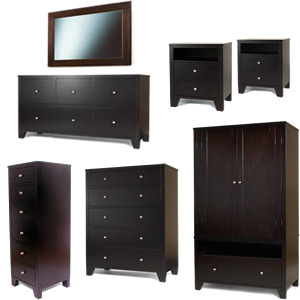 Recommend mattress for our slatted platform beds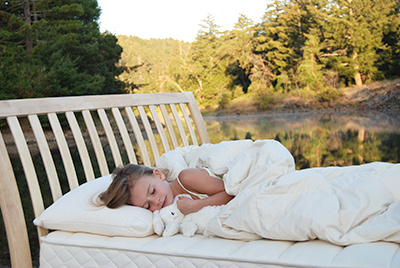 Natural Sense Organic Mattress
On top of offering platform beds, we suggest using one of our best selling deluxe memory foam or organic latex mattresses. Although latex is without equal when it comes to healthy sleep, some people choose a less expensive option. Our eco-soy blended mattress foams are a great and cheap alternative for guest beds, and may be found in our clearance section. We still want you to take a moment to look at the benefits of using a Natural Sense all-natural latex mattress. Natural Sense latex contains no flame-retardants — impressive due to the strict fire codes regarding mattresses. Further, Natural Sense mattresses placed on a platform bed are warranted for 15 years WITHOUT being prorated! For more info, check out our organic mattress page for some of the best natural mattresses in the industry.