Organic Wool Felt or Needlepunch
This is certified organic wool from New Zealand. It is very clean. We use it in our natural Puddle Pads mattress protectors. It is approximately 1/4" (6 mm) thick and 90" (229 cm) wide, and it weighs about 2.3 pounds per yard.
Our 1/8" (3 mm) thick felt is 90" (229 cm) wide, with a 300-gram weight.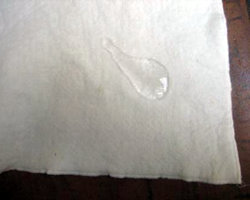 Organic Wool Felt or Needlepunch