Down Cushions and Envelopes
---
Sit on cloud nine.
Our down cushion products will cradle you in pillowy comfort. Wrap a down envelope around a premium piece of foam to turn it into a plush cushion. Or, create a customized solid down cushion—your very own "cloud nine." Our down cushions and envelopes are usually made using 200+ thread count Fire Resistant ticking.
The luxury of a down cushion—with polyester. We also offer a premium Polyester filling, ideal for people allergic to down products. It is a premium way to make a down-like cushion, and is superior to dacron wraps.
Build from the basics. Finally, for the craft-minded and cost-cutting crowd, we offer all the raw materials to build your own pillow.
---
Down Envelopes (Also available with polyester fill)
Down envelopes are advantageous and self-fluffing. When you get up off your cushion the foam inside causes the down to "stand up" again. Control the firmness of your cushion by choosing the desired foam. Keep in mind that back cushions should be softer foams. The foam is enclosed with a zipper, which allows you to switch foam easily.

We fill our envelopes on each side and in the front where the back of your knees may touch. These are the parts that can be seen. The sides and back don't have any fill and don't need them since you don't touch or see them. Please help us by specifying which areas are to have the down fill. This is very important as it removes the guesswork and ensures you receive precisely the product you want. Add your comments on the shopping cart screen.


Down Envelope

Our recommendations: Order either the 25/75 grade, 50/50 grade or better. The less expensive grades like 10/90 will leak feathers and this is not something we will warranty. When selecting a foam consider your desires and the dimensions. If your cushion is 4" thick and you want it soft and cradling but not too soft choose EverFlex™ V24 foam. If you want it a little supportive choose EverFlex™ V34 foam. (You can select foam options after specifying the dimensions of your down envelope and selecting the fill type.)

Important note: The down envelope will cause the overall cushion to finish approximately 3" thicker at its peak in the middle of the cushion. This is to achieve an overstuffed look. A poly envelope will finish 3"-5" thicker since the poly fibers have greater loft. This can be reduced by lowering the recommended weight of fill in the cushions. Don't forget that your fabric case will pull it tightly together and flatter. This crown is normal. If you don't want such a large crown then add to the comments section in the shopping cart that you want your foam 1" thinner, and this will lower the crown by 1". Certain combinations of foam and down are best in these circumstances, so call our sales staff for recommendations. (Example: You want to use a medium foam and your cushion measures 4"x24"x24". With 4" foam and a down envelope it will finish 7"x24"x24" and this may be too thick for the look you want. So switch to a 3" thickness of the harder EverFlex™ V44 foam to achieve the desired firmness and thickness.)

Solid Down Cushions (Also available with polyester fill)
If you have a cover and are ordering a down cushion to fit inside of it, enter the cover's exact dimensions. We will add an allowance to the cushion to fill it out completely. This allowance is recommended for all cushions except very small ones (with longest dimension less than 15 inches, or 38 cm). If you don't want these added allowances, you will be able to deselect that option. Either way, make your measurements and enter dimensions as usual—it's best not to try to adjust or compensate when entering your dimensions.

Our recommendations: It is strongly recommended that you select the 50/50 white goose. This grade offers the best combination of luxury and life. The 50/50 white goose grade will "fluff" itself back up better than any other down type and provide many years of comfort. The lesser expensive grades like 10/90 have a high risk of feather leakage, which is not covered by warranty.


Solid Down Cushion
First, select a cushion shape...
Please click on the shape below that closest resembles what you would like to order. Next you will be asked to enter in the dimensions, and after that you will be given a price quote on a range of qualities.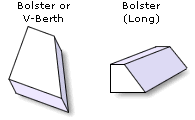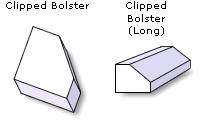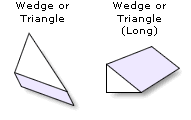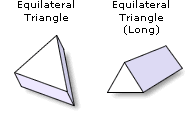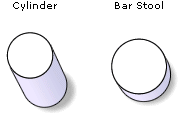 We also carry Outdoor Furniture Patio Cushions with Sunbrella Fabrics.


---
Do-It-Yourself Pillows...
Bulk Feathers
Build your own down pillows and cushions. Buy grey duck down feathers by the pound (1 lb = 0.45 kg), or save even more by buying a full 25 pound bag of down (25 lbs = 11.25 kg).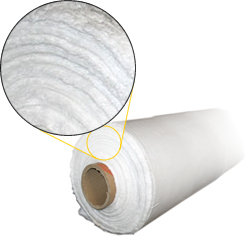 Natural 100% cotton
down-proof ticking
Down-Proof Ticking
Natural 100% cotton down-proof ticking, 220 thread count, 90" (229 cm) wide but folded at 45", non-fire-resistant (fire-resistant ticking is available by contacting us). Sold by the yard (1 yard = 0.91 m).
Pillow Stuffing
Make your own pillows with our silky polyester pillow stuffing. We sell pillow stuffing by the pound (1 pound = 0.45 kg). This is a loose poly fiber great for making pillows, "fake snow" and more!
Pillow Fabric Lining
Durable 50/50 lining, perfect for polyester pillows. 54" (137 cm) wide, white color. Sold by the yard (1 yard = 0.91 m).
---