Beds With Drawers
---
Beds with drawers are the intelligent balance between sleeping space and storage space. What use is a frame if it takes away the use of so much room? Usually beds with drawers stand 16" high and will either have drawers mounted in the frame or rolling along the floor.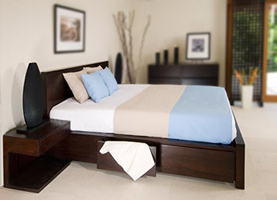 Beds with drawers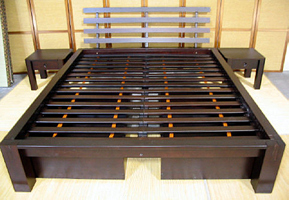 Beds with drawers that roll on floor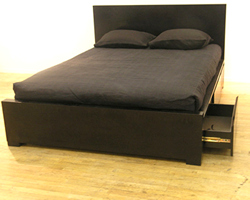 Beds with drawers mounted on glides
We have a variety of beds with drawers. Simply click on the collage and it will expand showing all our beds with drawers.

When shopping for beds with drawers, be aware of the healthy way and a cheap way. VOCs (volatile organic compounds) are found in almost all beds with drawers. What you should do is find a bed with drawers that has lower levels of VOCs and therefore poses a lower risk to your body. VOCs come from veneer furniture glue that is used in particleboard (MDF, a.k.a. fiberboard), plywood, and stains. VOCs occur in both nature and man-made products; since it is futile to avoid them completely, you should keep the amount you are exposed to at a low level. Being constantly in contact with VOCs within a space without openings, such as a bedroom, may make one more vulnerable to leukemia and lymphoma.
The next step for acquiring a "green" bed with drawers is giving attention to the materials used. Pay attention to the lumber used; you want sustainable by nature (wood coming from a properly managed forest) and certified by the FSC (Forest Stewardship Council). Be sure you are not being "green-washed." The FSC and SFI (Sustainable Forest Initiative) are far from the same. SFI not only has fickle criteria (so everyone can pass) but owners may choose to analyze their operation free of a third party. To top it off, much of the criteria are optional. FSC standards are applied to everyone, no exceptions. A third party also conducts it, in order to have an unbiased evaluation. In addition, they enforce a chain of custody policy so you can track the wood all the way to the sustainable source. After you decide on how sustainable you want your frame you arrive at the fun part, determining style!
Most manufacturers today can achieve a bed with drawers no matter what style is wanted. After you have come to a decision about the style that suits you, you should ask specific questions. Make sure the finish color is offered on the size frame you want. Also make sure you know what type of wood it consists of. Harder woods, like oak and maple, will hold up longer than softer woods, like fir and pine. Wood type is also a large factor in price. One type to always stay away from is particle board, or MDF (medium density fiber board). This is made by pressurizing scrap wood and covering it with a thin veneer. Beds with drawers made with MDF, when chipped, cannot be repaired and need to be thrown out eventually. Beds with drawers made with veneers are much less expensive but do have their place in furniture manufacturing. Large flat surfaces tend to split and crack unless a veneer is used. Real wood veneers can be touched up. We originally produced our Del Rey using a solid wood headboard that later split. This is now made with a real wood veneer over plywood.
When it comes to ordering beds with drawers be clear about delivery and warranty. Be sure responsibility for any damages during shipping are the shippers, NOT yours! Shipping beds with drawers often requires consumers to inspect shipments for damage BEFORE SIGNING delivery receipt. Note any damages or you could get stuck with the bill to replace them. Also make sure you have the elbow grease to get your beds with drawers into your home when it is delivered curbside.
---